June 11, 2020
Webinar: Leading in Uncertainty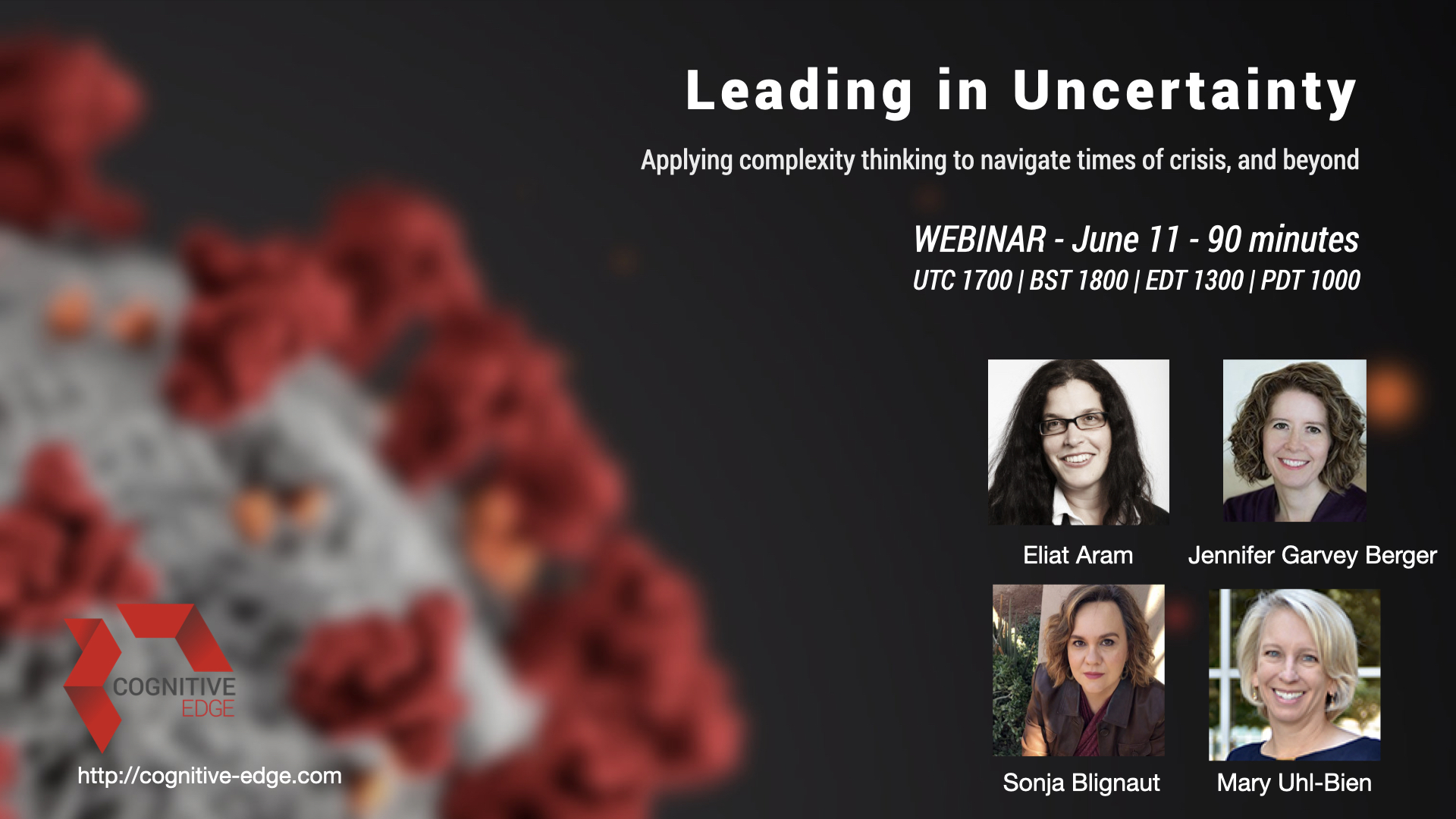 COVID-19 has poignantly highlighted the life and death impact of leadership. It has placed a spotlight on existing fault-lines, but at the same time created opportunities for radically new conversations. There are very few things we can be certain about right now, but one thing we do know is that COVID-19 is not the first pandemic humanity has had to face, and it won't be the last. In addition to that, there is climate change, increasing polarisation,socio-political turmoil and economic uncertainties. It is critical that we learn from this experience and prepare as best we can for what lies ahead. A question that keeps emerging is: where is the leadership that can help us navigate this uncertainty and complexity? And following from that, what does complexity-fit leadership look like?
In this conversation we will explore:
– What is the role of leadership in an uncertain world? Is there a crisis in leadership?
– From each of the various perspectives, what is happening in the leadership field?
– What are we learning about leading in complex systems? What do we make of notions like collective and distributed leadership?
– The dynamics between individual leaders and their systemic context.
– What are the implications for leadership and organisational development?
Meet the panellists and host
When Eliat Aram is not busy overseeing the daily activities of the Tavistock Institute, thinking about its future, strategising and nurturing its cutting-edge profile,  she works with organisation and community change agents, exploring how to work in the unknown, in conditions of high turbulence, uncertainty and ambiguity. She has a special interest in the dialectic between leadership, ethics and aesthetics using a participative design approach, and is a keen practitioner in Group Relations, the Tavistock enterprise's core 'learning through experience' practice. Read more.
Sonja Blignaut is an internationally recognised specialist in the field of complexity. She is a thinking partner to senior leaders and teams and consults broadly in the practical application of ideas and methods from complexity science and narrative.  She has a background in ecosystem sciences and holds a degree in Meteorology. 
Jennifer Garvey Berger believes that leadership is one of the most vital renewable resources in the world. This might be more true than ever as organizations across sectors and around the world are facing an unprecedented amount of volatility and change. Leaders can see these swirling currents of change as a threatening force to be survived, an inconvenience to be managed, or an opportunity to be harnessed. Harnessing the opportunities in this time of complexity, though, requires a new form of leadership with new approaches to leading people and crafting solutions. If we want organisations where people are thriving and bringing their best, we need leaders who are learning. Read more.
Mary Uhl-Bien is the BNSF Railway Endowed Profes- sor of Leadership at the Neeley School of Business at Texas Christian University. She is an expert on complexity leadership, relational leadership, and followership. She is active in executive education nationally and internationally and has taught for the Brookings Institute and the Gallup Organization.
NOTE:
We are making these Webinars and recordings available free of charge to our Premium Members, and in order to help cover costs, we are charging a minimal fee of $9 to non-members.