June 3, 2020
Webinar: Decision-Making in Crisis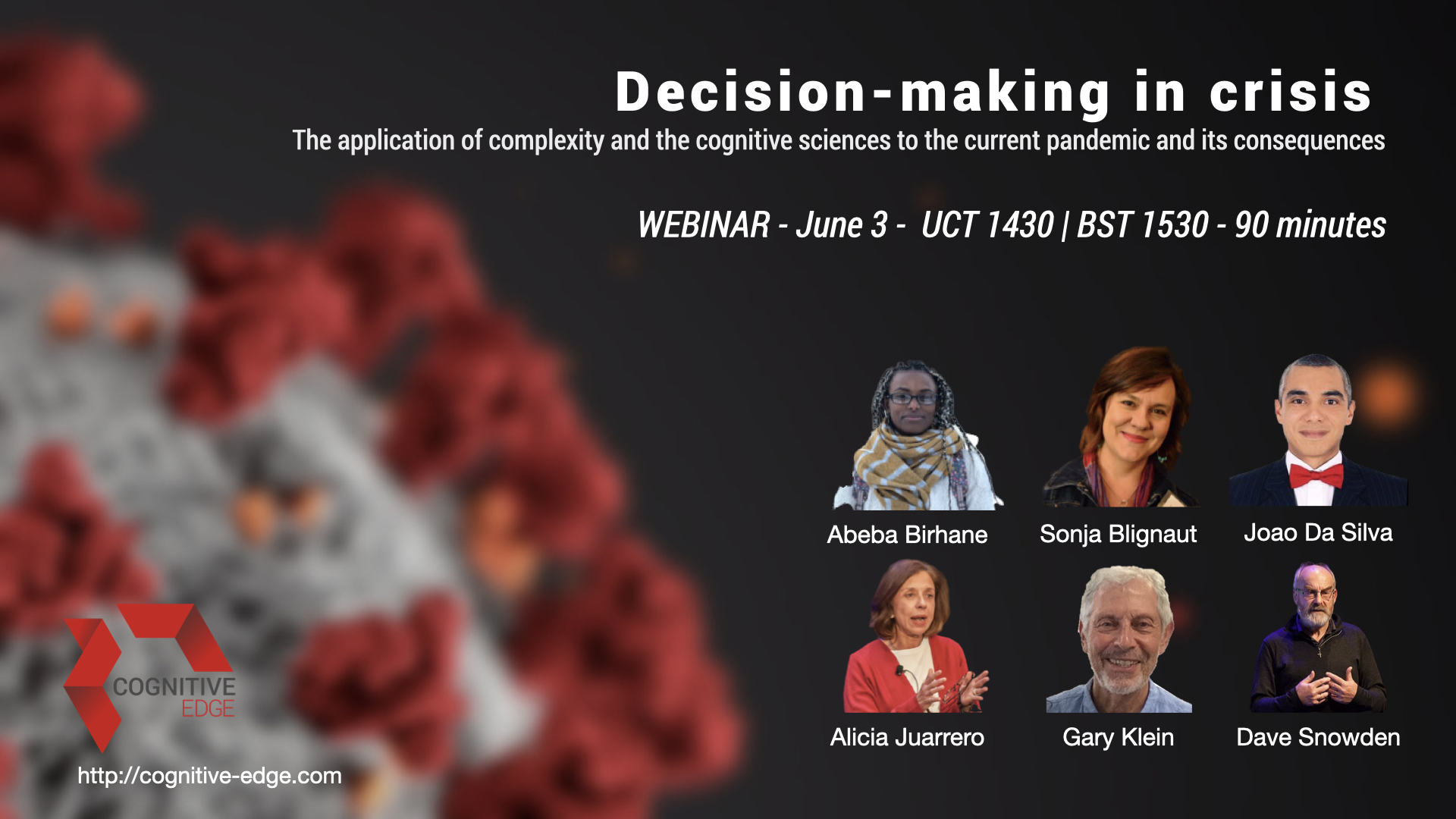 The decisions we make in our lives, however big or small, can cause a ripple effect. In a global pandemic, even the simplest of decisions are tidal waves that could literally mean the difference between life and death, survival or decline.
Crisis situations are marked by time pressure, ambiguity, vague goals, and organisational constraints. These conditions are inconsistent with deliberate, analytical decision making. Yet we have learned how people actually handle these challenges and several techniques have been developed to prepare decision-makers to be more successful.
How will a deeper understanding of cognition influence and inform our decision-making practices during times of uncertainty and crisis? And how do we be sure that everyone, everywhere, harnesses the incommensurable power of their decisions, their own tidal waves, to help protect lives, and rebuild a new (and hopefully better) normality.
Join Abeba Birhane, Alicia Juarrero, Gary Klein and Joao Da Silva in conversation with Dave Snowden and Sonja Blignaut for a 90-minute discussion on "Decision-Making in Crisis".
NOTE:
We are making these Webinars and recordings available free of charge to our Premium Members, and in order to help cover costs, we are charging a minimal fee of $9 to non-members.
Introducing the panelists
Abebe Birhane is currently a PhD candidate in cognitive science at University College Dublin in the School of Computer Science. specifically, she explores how ubiquitous technologies which are interwoven into our personal, social, political, and economical sphere are shaping what it means to be a person. In doing so, she leans on theoretical frameworks from traditions such as embodied cognitive science, dialogism, complexity science, critical data studies and philosophy of technology.
Sonja Blignaut is one of the most experienced practitioners in the Cynefin network. She partners with leaders and other practitioners to enable responsive and agile organisations and make sense of complex problems like culture and change. She does this through the use of pioneering ideas and tools from complexity theory and narrative practice.
Joao Da Silva is a Neuro Lean-Agile Strategic Business consultant and has gathered in his 17 years as Senior Marketing more ingenuity and curiosity in marketing, sales, and business development. He embraces #Lean #Agile and neurosciences with a twist of #GrowthHacking and #Designthinking as value generation and customer-centric approaches.
Alicia Juarrero is the author of Dynamics in Action (MIT Press, 1999) and co-editor of Reframing Complexity(ISCE 2007) and Emergence, Self-Organization and Complexity (ISCE 2008), Alicia specializes in complexity theory and its applications to biology.
Gary Klein, Ph.D., is a cognitive psychologist who helped to initiate the Naturalistic Decision Making movement in 1989. His Recognition-Primed Decision (RPD) model describes how people make tough decisions under time pressure and uncertainty. In 1985 he and his colleagues developed the Critical Decision Method. He has formulated the ShadowBox method for training cognitive skills. He founded Klein Associates, Inc. in 1977. He started his new company, ShadowBox LLC, in 2014.
Dave Snowden divides his time between two roles – founder and Chief Scientific Officer of Cognitive Edge and the founder and head of the Cynefin Centre. Dave's work is international in nature and covers government and industry looking at complex issues relating to strategy, organisational decision making and decision making. He has pioneered a science-based approach to organisations drawing on anthropology, neuroscience and complex adaptive systems theory. His paper with Boone on Leadership was the cover article for the Harvard Business Review in November 2007 and also won the Academy of Management award for the best practitioner paper in the same year.